About Us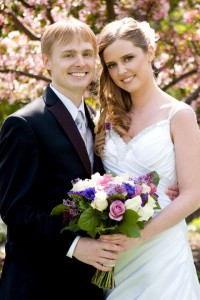 Blame our families. Luke and I (Grace) met through our brothers and sister-in-laws, who attended university together. In the way great romances go, Luke says his first impression when walking in and seeing me at a party at his brother's house was, "Hmm…She's sitting in my favourite chair; the one closest to the food…". We got to know each other over good food and Rock Band. We had our first official date two months later on May 30, 2009, and spent the summer talking and tossing a football around in the park near my house.
A year and a half later, Luke proposed in that same park. It was Christmas evening, and we were surrounded by evergreen trees, colourful lights, and ice sculptures. It was cold, and it was perfect. We were married in May 2012, a few days shy of the third anniversary of our first date. The wedding was hosted at the Calgary Zoo and shared with our favourite people. We took off to Greece the following month for a 2-week honeymoon that was positively magical.
Our next adventure came in the form of home ownership. We bought a house in 2013 and, along with our cat, Gemini, moved just outside of Calgary. Years later, we are still proud to call this place "home".
And Then There Were Three
In September 2014, we became parents to an unbelievably adorable pot roast. Thea has since grown into this unbelievable small(ish) human: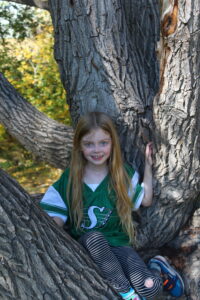 Thea is well into her 8th year right now and a bright, chatty, capable, beautiful, kind child. She loves reading, colouring, science, Lego, and computers and has a sharp wit and strong negotiation skills, which we usually consider a good thing.
And Now There Are Four
Our family was completed in November 2017 with the arrival of Finn. Then we blinked and he turned five: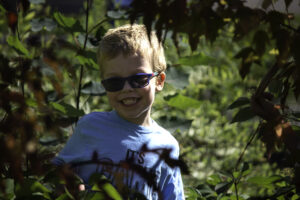 Finn is hilarious, thoughtful, beautiful, and smart. He loves cooking, Lego, video games, and dancing. He has strong opinions and big emotions, and loves with his whole self, which Gemini doesn't always appreciate. At four years old, he nicknamed himself, "Finn-ado," which is oh-so accurate.
Nowadays, Luke and I spend our time trying and failing to keep up with the chaos. Some of our favourite pastimes are going for long walks around our neighbourhood and the Calgary Zoo, playing cribbage and family board games, and giggling through endless rounds of "Guess What – Chicken Butt!"
In summary, Life is good.