About Us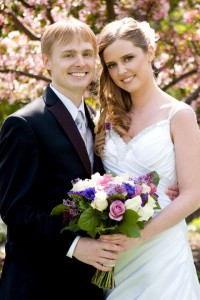 Blame our families. Luke and I (Grace) met through our brothers and sister-in-laws, who attended university together. In the way great romances go, Luke says his first impression when walking in and seeing me at a party at his brother's house was, "Hmm…She's sitting in my favourite chair; the one closest to the food…". We got to know each other over good food and Rock Band. We had our first official date two months later on May 30, 2009, and spent the summer talking and tossing a football around in the park near my house.
A year and a half later, Luke proposed in that same park. It was Christmas evening, and we were surrounded by evergreen trees, colourful lights, and ice sculptures. It was cold, and it was perfect. We were married on May 26, 2012, a few days shy of the third anniversary of our first date. The wedding was hosted at the Calgary Zoo and shared with our favourite people. We took off to Greece the following month for a 2-week honeymoon that was positively magical.
Our next adventure came in the form of home ownership. We bought a house in 2013 and, along with our cat, Gemini, moved out to Chestermere, Alberta, just outside of Calgary. More than two years later, we are still proud to call this place "home".
And Then There Were Three
On September 11, 2014, we became parents to an unbelievably adorable pot roast. Thea has since grown into this unbelievably adorable tiny human: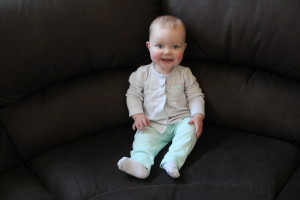 Nowadays, we spend our time being all at once awestruck and befuddled (probably due to lack of sleep) by every little thing that our daughter does. Some of our favourite pastimes are going for long walks to the gelato shop in town, playing MarioKart and all kinds of board games, and giggling through endless rounds of peekaboo.  We still find time most Saturday mornings for coffee and bagels at Tim Hortons with Luke's family, and he and I manage to sneak away for the occasional date night.
In summary, Life is good.