We have a four-year-old in the house! Happy Birthday, Thea!
Thea had a fabulous birthday, starting with a party at our house on Sunday. She had 12 friends running around inside and out. They coloured, painted, and played, and ate hot dogs, macaroni and cheese, and cake. Thea was positively bouncing with excitement, and that lucky little girl was gifted all kinds of wonderful things. In all the excitement, we took very few photos, but here are the handful I did snap (or got from other people):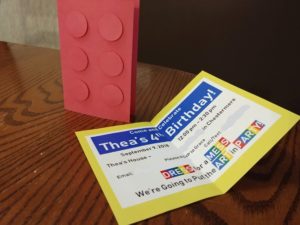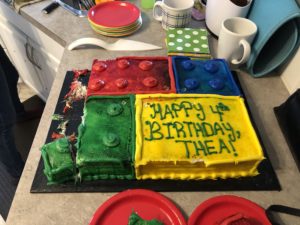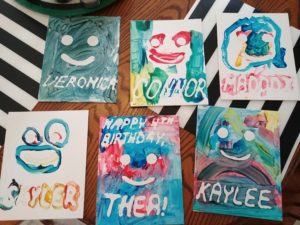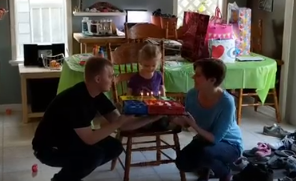 For Thea's gift from us, Luke built her this AWESOME Lego table. He took a collapsible, height-adjustable table, cut holes in it for two buckets of Lego bricks, added a lip around the edge for containment purposes, and glued down four big baseplates in the middle. Her face said it all: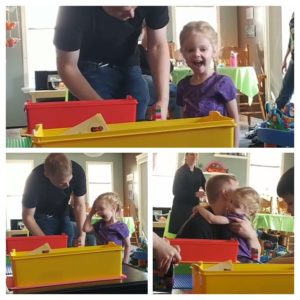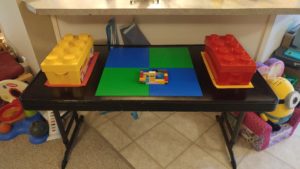 On Monday, Thea had her first dance class, and LOVED it. This is the first recreational activity that she has leapt into without hesitation or shyness. Hope that enthusiasm carries through the next four months of weekly classes!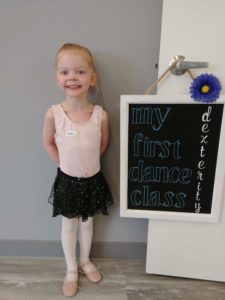 Thea's actual birthday (today) included trips to the library and Regal Cat Café, snuggles at home watching The Little Mermaid, and supper at Smitty's.
Lastly, I interviewed the new four-year-old, here are the results of that fun:
What is your name?
Thea
How old are you?
4
What is your favourite thing to do?
Play in the bath/Colouring (asked twice, each answer corresponded to what she was doing at that moment)
What is your favourite food?
Mac-and-roni
What is your favourite drink?
Milk
What is your favourite colour?
Pink
What is your favourite animal?
That's a very long choice, I can't even think of one! (The answer the next day was Kitty cat)
What is your favourite toy?
Stuffies, Legos
What is your favourite movie?
Elsa and Anna
What is your favourite book?
Frozen book which I got for my birthday party!
Who is your best friend?
Dylann, Skyler, Rory, Maddox
What makes you happy?
Sparkly makes me happy
What makes you sad?
Owie
What do you like to learn about?
Animals
What do you do really well?
Go to the bathroom
What is your favourite thing to do outside?
Kick balls
If you could go anywhere, where would it be?
I don't know
If you could have one wish, what would it be?
Go to the beach
What is your favourite song?
A B C D
What is your favourite snack?
Granola bar
What do you want to be when you grow up?
Mama
Some of these responses might still be the same this time next year, but I'm sure the little big girl answering the questions will have changed in ways I can't yet fathom. Bring it on. Happy birthday, Sweets!
PS: The cherry to top off the awesome birthday weekend was the birth of Thea and Finn's newest cousin on Sunday morning. Welcome to the family, Little One. <3 <3 <3